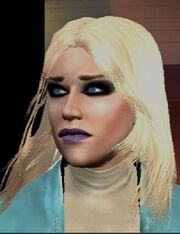 Alba is the beautiful older sister and wife of Happy Vim. Up until 2006, Alba stayed out of the limelight as she never used to get involved in the families wrestling activities, until she became Happy Vim's manager in 2006 and made her debut match against Anna Creepy.
Alba is the older sister of Happy Vim and there has been a lot of controversy about her and her brothers marriage. As they are an incest married couple, they have recieved a lot of hate from both wrestling fans and regular people. Alba stated that this doesn't affect her relationship with her brother and neither her nor her brother care what anybody else thinks of their marriage.
Alba can play guitar.
Alba is often nicknamed "Albi" or "Albi-Cakes" by her brother Happy Vim.